In the past 3-4 years, the logistics industry has grown at a rapid space. Be it FTL, LTL movements or the express courier and cargo deliveries, the industry has witnessed a phenomenal growth. The freight movement in India is expected to double by 2025. The growth in express courier and door-to-door delivery, in particular is mostly attributed to the growing number of ecommerce companies and the need for on-demand services. Be it delivering expensive mobile phones or groceries, door-to-door delivery companies are cashing on this growing urban need of hyperlocal services. There have been numerous start-ups such as Swiggy, Delhivery,Tinyowl, Parcelled, Dailyninja etc who have come into this space with their own set of value added service.
In today's times, it's not just the shipment but the information about the shipment which is equally important. At SkyKing, we cannot even imagine to operate without technology, our entire operations can come to a standstill if there is small a technical glitch. We, at SkyKing, have worked diligently towards improving our tech offerings to our customers. This has not only offered the much-needed delight to the customers it has also helped to get the data and visibility about our own network. One can debate and argue, but at the end, data gives out the true picture about our own performance.
One of the first things that we did right was to setup an in-house team to build our tracking management system; this is something we learnt the hard-way after trying out several contractors/consultants. There were always concerns related to data privacy/security and we were always spending more time in fixing the gaps rather than focusing on new development. Serviceability too was always an issue with external contractors, given the nature of the industry which is always moving and there is no concept of a downtime.
The advancement in cloud computing and mobile computing assisted and compelled us to go in-house and be asset light at the same time. Today we have a team of mobile, database and web developers sitting in our own premises and resolving any issue faced by the operations team across India.
Some of our key tech offerings have been:
Web and App-based tracking facility– Customers are more satisfied when they know where their shipments are, while they are on the go. We have our iOS and Android app, which are used not only by our customers but a lot of our internal users use it to give response to customers tracing their shipments. We have even developed an app for our own operations for branches in tier-3 and village areas, where-in they don't need to buy a PC, but can smoothly run their operations with an Android app.
Alerts– Skyking believes in walking an extra mile to ensure customers' peace of mind. We push regular alerts to keep the recipients informed about the delivery and the location of their packages. It's a really simple tool and gives a lot of value add. All one needs to do is tag a mobile number/email while tracking a shipment and from that point, the system pushes regular alerts.
End-to-end Integration– From inventory handed over to our franchisees and the accounting of every shipment that flows through our network, we have come a long way and with the GST coming into reality, we will be taking appropriate measures to integrate with the new laws and account for every bit of inventory.
Tech-driven customer care– So you're confused and worried regarding the courier? Or maybe, you're an online retail store and your customers expect a high-flying delivery experience? Worry not! Skyking homes a tech-driven customer support system that vouches for quick and happy solutions to every worry and query. In the present day we advise all our customers not to call us and instead use the technology at hand. We are more responsive over emails/twitter/Facebook and have solved issues in minutes, if not seconds. Times are changing and we have a dedicated centralized team located to resolve all the issues over various channels. We are also in the process of deploying a CRM module for our customer care team so that all leads/issues are responded quickly and can be tracked.
We believe in never settling! Skyking is striding fast to get even better. Adding soon to our range of services will be an efficient Point of Sale system and enhanced mobile operations facility, which will help us get even better in offering customers/clients a no-nonsense, smooth and perfect delivery experience. We are soon to deploy automated sorting machines and bag tagging systems to enhance our internal operations and reduce our human capital.
"A lot has changed and a lot will change in the coming days, technology is going to be the game changer and we are heading in the right direction. The fascinating thing is that the people who had never even operated a computer in their lives are striving hard to adapt to modern times and are well aware of the criticality of technology. That according to me is the true essence of Digital India" said Arvind Biyani, Director of Skyking. "Our team is in continuous pursuit to improve. And we're always looking for ways to offer better customer satisfaction. We will continue integrating technology in every bit of our operations and scale" he added.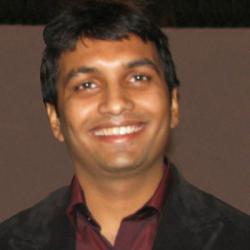 Author:
Varun Biyani
Varun Biyani, brings 10 years of experience in IT and building systems in the Logistics space both in the domestic and international arena. Varun has a Master's Degree from Carnegie Mellon University, USA.